March 23, 2022
Omada, a global leader of Identity Governance and Administration (IGA) software and cloud delivered IGA, today introduced the March 2022 update to Omada Identity Cloud (version 14 CU 12). This release builds on Omada's track record of innovation with improvements to further advance our best-in-breed user experience, strengthen role management capabilities, and enhance connectivity. This release aims to help customers optimize business efficiency, improve security, and meet compliance mandates.
Updates to Omada Interface
Building off Cloud Update 9, Omada continues to make improvements to the user experience. This time, customers can see that the new home page has been updated to match the new UI look and feel. New tags include info on the name of the task, due data information (including context as to whether tasks are overdue, due soon, etc.) and task categorization. This provides fast, easy ways for users interacting with Omada to access the most frequently used services and get people into their most urgent tasks.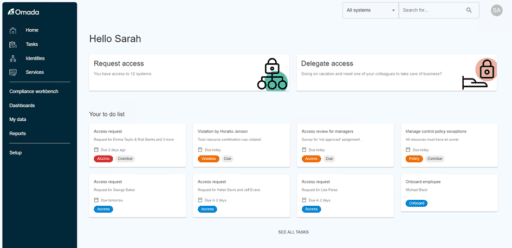 These enhancements are part of an ongoing effort to provide the best possible end user experience for all Omada Identity Cloud customers, and enable them to minimize time spent navigating the portal, and more time doing.
Group KPIs in Omada Dashboard
Within any IGA solution there are a variety of KPIs that administrators, auditors, and other IAM team members look to enhance security, meet compliance, and keep business users efficient. However, as business needs change, new KPIs are often needed to capture how effective new workflows are, how a new security initiative is tracking, or how a team is tracking towards meeting a compliance mandate, and this can result in an endless list of KPIs that are hard to sort, monitor, and gather data from. As such, as Omada Identity Cloud customers introduce new key figures and KPIs into their solution, they can also now configure a KPI widget to group them by the following categories:
Operations
Master Data
My Data
Risk and Compliance
This enhancement improves the user experience for anyone who needs visibility into a variety of KPIs and helps make for a more seamless user experience.
Role Certification Surveys
Businesses can use roles to great advantage to manage resources in an efficient and user-friendly way. However, roles need to be certified regularly to ensure that they are still relevant, contain the correct permissions, and that permission owners agree that certain permissions still belong in a particular role. With this latest release, Omada Identity Cloud customers can leverage standard role certifications to recertify roles and the contents of roles. The role certification is a two-step survey where first the role owner reviews if a role is still relevant, and second the resource owners confirm that resources can continue to be included in the role.
Customers can enable these workflows with minimal configuration while tracking and saving any survey changes for audit purposes.
New Connectivity Capabilities
Integrating various business systems with IGA is one of the most important parts of an enterprising digitizing their organization, and connectivity between the IGA solution and an organization's databases also ranks quite high on the list of important tasks. This release introduces connectivity to three new database types, allowing Omada Identity Cloud customers to govern and control any systems that are based on MySQL, MariaDB, and/or PostgreSQL using simple configuration for both full and delta imports.
With this release, customers save time and effort in integrating Omada with these common databases through out of the box connectivity, particularly when compared to needing custom integration and code to communicate as is often required with high-cost legacy solutions.
Additionally, integrating applications through a variety of authentication types continues to be a driving factor for scale as new applications are introduced. Win the March release, we have developed a new OAuth authentication type that allows Omada Identity Cloud customers to configure integrations to REST APIs that have implemented authentication methods that do not follow RFC standards, like Adobe Creative Cloud.
---
About Omada
Omada, a global market leader in Identity Governance and Administration (IGA), offers a full-featured, enterprise-grade, cloud native IGA solution  that enables organizations to maximize efficiency, reduce risk, and meet compliance. requirements. Founded in 2000, Omada delivers innovative identity management to complex hybrid environments based on our leading technology, proven best practice process framework, and best-in-breed deployment approach.
Learn more about Omada's Cloud Identity Management solution.