August 24, 2023
We are pleased to announce the new release of Omada Identity Cloud August 2023. The features included in this update are all aimed at streamlining user experience, boosting productivity, and ensuring seamless integrations. Let's take a closer look at this release's highlights and discover how the new features can improve how you use the Omada Identity Cloud.
A market-leading solution, Omada Identity Cloud, provides organizations with seamless and effective Identity Governance and Administration (IGA) capabilities. At its core, the solution enables businesses to efficiently manage user identities, access permissions, and compliance requirements within their digital ecosystems. Omada Identity Cloud provides a full range of features that simplify the difficult process of regulating and monitoring user access, with a focus on modernizing identity management practices. From user provisioning and access request workflows to role-based access control and continuous access reviews, the platform ensures organizations have the tools they need to maintain security and compliance in today's ever-changing technological landscape.
What sets the Omada Identity Cloud apart is its cloud-native architecture, which facilitates easy integration with both on-premises and cloud environments, ensuring consistency across various platforms. Omada Identity Cloud reduces manual work, increases operational efficiency, and minimizes security risks by offering a unified view of user identities and their permissions. This new release includes a number of features aimed at enhancing integration capabilities, improving the user experience, and providing more accurate data retrieval.
Highlights from this release include:
Ensuring Uninterrupted Workflows with the Extend Access Feature
We recognize the value of uninterrupted work. Before your granted access expires, you can easily request extensions using our new Extend Access feature. With a convenient home page service shortcut, this feature gives you the freedom to continue having uninterrupted access to the resources you require. By using the Extend Access feature, you have the freedom to proactively manage your permissions, eliminating the stress associated with approaching access expiration.
Extend Access Feature Workflow:
Step 1: Select who needs extended access
Step 2: Select which resource need to be extended
Step 3: Provide justification and a target end date
Step 4: Review request before submitting
Elevate Insights with Exportable Survey Questions
We now offer the option to export survey questions in CSV-format as part of our August release. Available for both end users and survey administrators, this development gives you the ability to easily review and audit survey questions before submitting them. This improvement strengthens your ability to make data-driven decisions by ensuring accuracy and relevance in your surveys.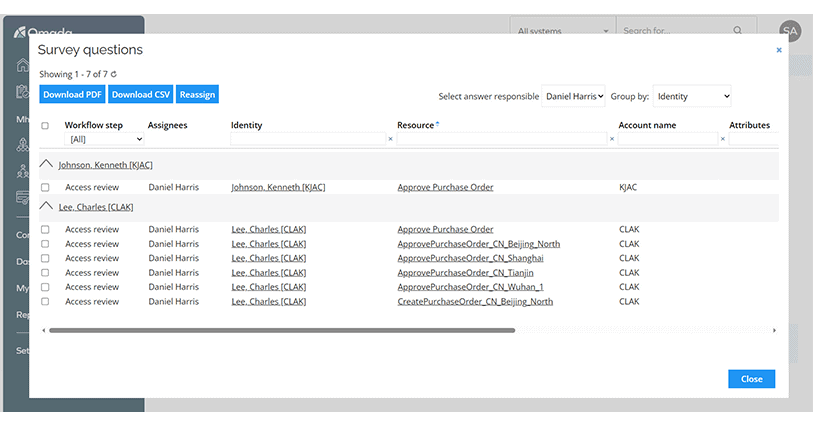 You can now export survey questions as either a PDF or CSV file
Precise Data Retrieval with Delta Support for OData API
We now have delta support for the OData API, making it easier for administrators to retrieve data objects. By including a timestamp or high watermark in your requests, you receive only the objects that have been created, modified, or deleted after that specific point. This feature not only enhances precision but also optimizes OData integration performance.

Example of a call to the OData API specifying identities created or changed after the CreateTime and ChangeTime attributes
Seamless Integration Handling with Paging Option for Link Headers
Effective identity management relies on seamless integrations. A paging option for link headers is now available in our new release for all REST-based collectors, which, in addition to the REST collector, also covers SCIM, OData, and Okta. This improvement ensures easier imports and interactions with external systems by streamlining imports and enabling pagination for platforms that require this option like Okta.
Empowering Non-Technical Users with User-Friendly Language
Complexity should never hinder your access to the resources you need. The user experience for non-technical users is significantly improved by the addition of plain language step titles and instructions to the access request process. This function contributes to making each step simple, logical, and approachable. We are enabling all users to engage confidently with the IGA (Identity Governance and Administration) process and fostering a more inclusive and seamless experience by bridging the divide between technical intricacies and user-friendliness.

Access request language before this feature release
Access request now with more user-friendly language
Navigating Access Requests with Precision with Improved Filtering and Sorting
Access request management is an essential component of identity management. New filtering and sorting options are available on our Access Request Overview page. Filters include who the access is for, who requested access, and which resources are being requested. You can manage access requests more skillfully and more quickly thanks to this upgrade.

Access request now with more user-friendly language
With features designed to ensure uninterrupted workflows, elevate insights, and empower all users, Omada Identity Cloud is evolving to meet your ever-changing needs. We encourage you to explore these features for yourself and see how they can strengthen your IGA program.